Pur water by "Procter & Gamble" is a low-cost pur filter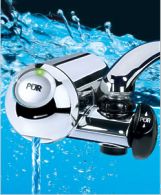 Pur water filter
provides drinking water at a fraction of the cost compared to bottled water.
Pur filter systems comes in various varieties including water pitchers, faucet mounted, under sink and counter top water filters, and replacement filters.
Easy-to-change replacement filter provides up to 40 gallons (1-2 months) of quality water, right from your tap.
PUR filter water costs less than bottled water and it's great value and convenience
"Automatic Safety Monitor Gauge" feature comes standard on every vertical PUR faucet mounted model, eliminating all guesswork out of knowing and keeping track of when your filter is ready for replacement
The filter has a red indicator on the top of the filter that moves clockwise as the filter is used. When the red dot has reached the end of the life indicator , "it's time to consider replacing the water filter"
Special features like with a twist of the wrist, the faucet mount tilts back to allow easy access to the sink and unfiltered water for washing dishes.
Activated carbon filter that reduces chlorine, sediment, bad taste and odor – leaving you a clean, healthy supply of great tasting water.
Pur filter eliminates most of the water borne contaminants including lead, asbestos, organic cysts, bacteria and more.
Installation is a breeze, with a quick fit directly to your faucet.

Pur filters can match any home or kitchen decor, offered in stainless steel, platinum, or white.
Portable Pur water filter are great to take along, if you're "going bush" on camping, RV travel, or extreme outdoor sports or paddling
Think about removing 99.99% of water borne viruses, cysts, protozoa like giardia, along with bacteria and germs, dirt, metals.
The PUR Vertical filter take up a few inches of sink space in its "filtered" position, but you can swivel it up and out of the way to use unfiltered water for washing dishes
Pitchers are convenience, it improves taste by reducing chlorine, bad taste and odor for lukewarm water and refrigerated cool water
The PUR Plus Pitcher replacement filter contains ion exchange resin and granular activated carbon enclosed within a pleated microfilter.
The microfilter allows for the removal of microbiological cysts such as Cryptosporidium and Giardi. The filter contains an antimicrobial agent to prolong the life of the filter

Pur water filter is handy and nice to have, if you are leasing an apartment and do not want to spend too much on filters.



Looking to SHOP ! or looking to make extra CASH ! FINANCING AVAILABLE Phone : 403-397-3833