Taint Water : Associated Press Writes : April 20th, 2009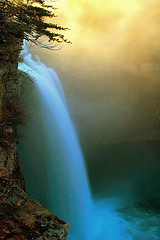 Tons of Released Drugs Taint Water in U.S. By JEFF DONN, MARTHA MENDOZA and JUSTIN PRITCHARD
Residues are often released into the environment when manufacturing equipment is cleaned.
A small fraction of pharmaceuticals also leach out of landfills where they are dumped.
Pharmaceuticals released onto land include the chemo agent fluorouracil, the epilepsy medicine phenytoin and the sedative pentobarbital sodium.
The overall amount may be considerable, given the volume of what has been buried — 572 million pounds of the 22 monitored drugs since 1988.
In one case, government data shows that in Columbus, Ohio, pharmaceutical maker Boehringer Ingelheim Roxane Inc. discharged an estimated 2,285 pounds of lithium carbonate — which is considered slightly toxic to aquatic invertebrates and freshwater fish — to a local wastewater treatment plant between 1995 and 2006.
Company spokeswoman Marybeth C. McGuire said the pharmaceutical plant, which uses lithium to make drugs for bipolar disorder, has violated no laws or regulations.
McGuire said all the lithium discharged, an annual average of 190 pounds, was lost when residues stuck to mixing equipment were washed down the drain.

Pharmaceutical company officials point out that active ingredients represent profits, so there's a huge incentive not to let any escape.
They also say extremely strict manufacturing regulations — albeit aimed at other chemicals — help prevent leakage, and that whatever traces may get away are handled by onsite wastewater treatment.
"Manufacturers have to be in compliance with all relevant environmental laws," said Alan Goldhammer, a scientist and vice president at the industry trade group Pharmaceutical Research and Manufacturers of America.
Goldhammer conceded some drug residues could be released in wastewater, but stressed "it would not cause any environmental issues because it was not a toxic substance at the level that it was being released at."
Several big drugmakers were asked this simple question:
Have you tested wastewater from your plants to find out whether any active pharmaceuticals are escaping, and if so what have you found?
No drugmaker answered directly.
Taint Water?
"Based on research that we have reviewed from the past 20 years, pharmaceutical manufacturing facilities are not a significant source of pharmaceuticals that contribute to environmental risk," GlaxoSmithKline said in a statement.
AstraZeneca spokeswoman Kate Klemas said the company's manufacturing processes "are designed to avoid, or otherwise minimize the loss of product to the environment" and thus "ensure that any residual losses of pharmaceuticals to the environment that do occur are at levels that would be unlikely to pose a threat to human health or the environment."
One major manufacturer, Pfizer Inc., acknowledged that it tested some of its wastewater — but outside the United States.
The company's director of hazard communication and environmental toxicology, Frank Mastrocco, said Pfizer has sampled effluent from some of its foreign drug factories.
Without disclosing details, he said the results left Pfizer "confident that the current controls and processes in place at these facilities are adequately protective of human health and the environment."
It's not just the industry that isn't testing.

FDA spokesman Christopher Kelly noted that his agency is not responsible for what comes out on the waste end of drug factories.
At the EPA, acting assistant administrator for water Mike Shapiro — whose agency's Web site says pharmaceutical releases from manufacturing are "well defined and controlled" — did not mention factories as a source of pharmaceutical pollution when asked by the AP how drugs get into drinking water.
Taint water?
"Pharmaceuticals get into water in many ways," he said in a written statement. "It's commonly believed the majority come from human and animal excretion. A portion also comes from flushing unused drugs down the toilet or drain; a practice EPA generally discourages."

Taint water is serious problem


Looking to SHOP ! or looking to make extra CASH ! FINANCING AVAILABLE Phone : 403-397-3833