Shower water filters offer some health benefits... by filtering out chlorine, from hot shower water.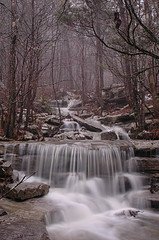 Shower water filters are equipped with the filters to
remove chlorine from the hot shower water along with other chemicals.
The skin's pores are wide open in a warm shower and exposed to absorb a great deal of chlorine. Chlorine removes oils from your skin, leaving it dry and itchy for the day.
During a hot shower, chlorine vaporizes and combines with other airborne particles to form chloroform gas, a known cause and contributor to respiratory problems such as asthma.
Regularly having hot showers without shower head filters could pose a health risk because municipal waters are chlorinated.
Most shower head filters are portable and does a good job of removing chlorine and other chemicals from the faucet's chlorinated water before it reaches the skin, which is the largest organ of the human body.
Choosing shower filters can be tough, as the market is flooded with wide variety of shower water purifier, each having different features.
Some shower water purifier couldn't do the job of removing various other chemicals mixed in the chlorinated water.
Good shower filters will eliminate chlorine and other chemicals providing you with the chemical free water for cleaning your body.

Most showering water filters need changing of cartridge every couple of months for ultimate performance and depending of frequency of usage

Aquasana ® AQ-4100 Deluxe Shower Water Filter System with Adjustable Showerhead Aquasana AQ-4100 Shower Filter was voted "Product of the Year" by Cosmetology Today Magazine!
This unique 2-Stage shower water filter is US Patented, has a high filtering capacity and is easy to install.
No tools necessary, although pliers may be helpful.
The granular copper/zinc and coconut shell carbon replaceable water filter effectively removes 99% of Chlorine, reduces VOC`s, heavy metals and other chemicals, as well as enhancing pH.
Stage 1: removes chlorine and enhances pH balance with a natural copper/ zinc mineral media called KDF-55D.
The second water filtration stage uses a carbonized coconut shell media for the removal of synthetic chemicals and VOCs that vaporize and can be inhaled or absorbed through the skin potentially causing adverse health and cosmetic effects.
Without the harsh influences of chlorine you'll notice significant cosmetic benefits. Also by removing chlorine and other chemicals found in tap water, you eliminate health risks related to inhalation and skin absorption of these chemicals... now known to be a significant source of exposure to harmful VOCs (volatile organic chemicals).
Your shower water will feel better, and be better for you.
The Aquasana Shower Water Filter provides minimal pressure loss and no change in showerhead height. It`s like showering in natural spring water!
The easily replaceable water filter lasts 10,000 gallons, about 6 months, and installs simply.
Comes complete with a deluxe adjustable massage-showerhead.
Aquasana AQ4100 Shower Filter Installation Instructions included

Shower water filters helps eliminate the intake of chemical contaminants and itchy skin due to chlorinated water.




Looking to SHOP ! or looking to make extra CASH ! FINANCING AVAILABLE Phone : 403-397-3833